SIRIUS
FICTION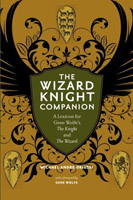 SIRIUS FICTION
P.O. Box 6248
Albany CA 94706-0248
USA
THE WIZARD KNIGHT COMPANION


The Wizard Knight Companion is a brief alphabetical dictionary for Gene Wolfe's two-volume The Wizard Knight series. Its entries identify the characters in the novel, dive into the mysteries in the text, and explore the Norse, Celtic, and Arthurian sources for names and words in the novels. It includes a map of the region, a cosmology, and a synopsis of the narrative.

HOW TO BUY


The book is available at many booksellers, including the following:

MORE ABOUT THE BOOK


Nominated for a World Fantasy Award, The Wizard Knight has received high accolades from critics and fans. Many reviews highlight its rich use of European mythology; many also comment on its puzzles and mysteries.
In a starred review, Booklist calls the series "a complex, even convoluted tale, with so many characters and subplots that a proper summary would far exceed the limits of a Booklist review. . . .there is hardly a piece of northern European heroic literature from which Wolfe doesn't borrow with his usual scholarly flair and in his exquisitely turned prose. . . . Arising from the same sources as Lord of the Rings, The Wizard Knight is one of the few fantasies that can justly be compared with it."
Kirkus Reviews mentions that "Wolfe likes to spin spiderwebs of plot and counterplot inside his impressively constructed universe."
In The Washington Post, Bill Sheehan calls The Wizard "a satisfying, wide-ranging novel that contains enough marvels and mysteries (not all of which are resolved or explained) to populate an entire series."
Marvels and mysteries, subplots and spiderwebs? If you love The Wizard Knight and wish to enjoy it even more, The Wizard Knight Companion is your perfect guidebook.
Preview the book before you buy!
| | |
| --- | --- |
| Published | November 2009 |
| Entries | Over 350 |
| Trim | 6 x 9 inches |
| Page Count | 132 pages |
| Illustrations | 28 b/w illustrations, 2 maps |
| Hardcover | $29.95 978-0-9642795-2-0 |
| Paperback | $14.99 978-0-9642795-3-7 |
REVIEWS

Locus Magazine (Gary K. Wolfe), January 2010:

A small treasure trove for Wolfe's devoted band of intensely focused readers, some of whom will undoubtedly take issue with a few of the interpretations (such as Andre-Driussi's mini-essay on the character Mag), while Wolfe grins impishly in the corner.

Michael Swanwick (blog Flogging Babel), September 2009:

Nobody literally *needs* The Wizard Knight Companion. But some of us -- and we know who we are, we happy few, you and I -- want it anyway. Simply because when we love a book, we want to understand it better. Also because we have a weakness for Easter eggs. For us, there is Michael Andre-Driussi's book. For which I am duly grateful.

SFSite.com (Steven Silver), December 2009:

Although, as noted by the title, meant as a companion to Wolfe's The Knight and The Wizard, Andre-Driussi's work stands fully on its own, providing interesting looks at various legends, etymologies, and lore as filtered through Wolfe's writing. Essential to those fans of Wolfe's novels who wish to understand every reference he has incorporated.

Mordicai Magog, LiveJournal, December 2009:

Even so, it is maybe 1/25 the size of the dictionary for The Book of the New Sun? Ha!

LibraryThing (reviewer Jim Collins):

Michael Andre-Driussi, author of the wonderful Lexicon Urthus, gives us a resource for another Gene Wolfe creation, The Wizard Knight. . . . The Companion provides help in a several ways: it provides a synopsis of the story, it helps to keep the characters straight, it shows the worlds through which Able travels, and it identifies the references Wolfe is presumably making to Norse and Celtic myths as well as Arthurian lore. MAD identifies some mysteries in the text and suggests alternative solutions. The Companion is a useful resource for serious Wolfe scholars or ardent fans who want a better understanding of The Wizard Knight.
---
Booksellers: Both editions are available from distributors including Ingram and Baker & Taylor. You can also contact us at sales @ siriusfiction.com to order direct or to be added to the list above.
---