SIRIUS
FICTION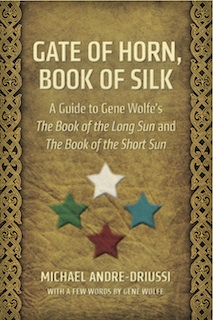 P.O. Box 6248
Albany CA 94706-0248
USA
GATE OF HORN, BOOK OF SILK


In this companion guide, Michael Andre-Driussi illuminates Gene Wolfe's Book of the Long Sun and Book of the Short Sun science fiction series through dictionary-style entries on the characters, gods, locations, themes, and timelines of the novels.

HOW TO BUY


The book is available at many booksellers, including the following:

MORE ABOUT THE BOOK


Gate of Horn, Book of Silk, is organized in two parts, with the first half covering the Long Sun series (Nightside the Long Sun, Lake of the Long Sun, Caldé of the Long Sun, and Exodus from the Long Sun) and the second half covering the Short Sun series (On Blue's Waters, In Green's Jungles, and Return to the Whorl). "Languages of the Whorl," a section between the two parts, covers all the dialect, slang, and foreign terms used in the books—thieves' cant, flier language, Tick's talk, and more. Ten maps and diagrams are included.

This is Michael Andre-Driussi's third guidebook to the rich tapestries of Gene Wolfe's worlds. As fans of of Lexicon Urthus and The Wizard Knight Companion have noted, each book is not only a convenient tool to look up a term while re-reading the novels but also an enjoyable read in its own right, from A to Z.
| | |
| --- | --- |
| Published | October 2012 |
| Trim | 6 x 9 inches |
| Page Count | 308 pages |
| Illustrations | 10 maps and diagrams |
| Hardcover | $29.95, £19.95, €24.95 978-0-9642795-4-4 |
| Paperback | $14.95, £9.95, €11.95 978-0-9642795-5-1 |
REVIEWS
Flogging Babel (Michael Swanwick), August 2012:
See what I have! I am now the envy of every admirer of Gene Wolfe who happens to be of a scholarly bent.
Michael Andre-Driussi is the author of Lexicon Urthus and The Wizard Knight Companion, both of which are indispensable reference works for the serious Wolfean or Wolfeist or Werwolfe or whatever the heck you'd call those of us who enjoy delving deep into the master's works. To this select company we may now add Gate of Horn, Book of Silk: A Guide to Gene Wolfe's The Book of the Long Sun and The Book of the Short Sun.
This is the easiest possible book to review because if you need it, you know that you do and you've probably just now returned to this post all in a sweat to find out why you can't find it on any of the online booksellers. . . .
In a better world people like Andre-Driussi would create books like this, uncommercial though they may be, simply because they ought to exist. The fact that he and they nevertheless exist in our own, fallen universe is inexplicable. Divine intervention may well be involved.
---
Booksellers: Both editions are available from distributors including Ingram and Baker & Taylor. You can also contact us at sales @ siriusfiction.com to order.
---